GOTO Baramon(Shimogoto Area Cycling Route)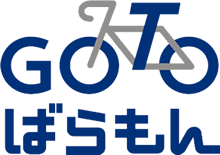 Mountains and ocean, with a dash of history. A tour around Fukue Island.
After taking a 1 hour, 30 minute ride on a Jetfoil from Nagasaki Port, "Onidake" the symbol of Fukue Island, which is covered in green grass, rises above the clear sea to greet you. As the Goto Nagasaki International Triathlon, or "Baramon King" is held here each year, you can expect an active route with hillsides that include challenging slopes. On this route, which runs 143 kilometers, you will see sweeping mountains and plains filled with vegetation, shallow and clear emerald beaches that will make you want to dive straight in, and a wide range of other beautiful mountainous to oceanic scenery that can only be experienced on an island. The island is also peppered with interesting sites related to Tang Dynasty envoys, as well as churches that tell the history of Christianity. Starting at Fukue Port, which flourished as the castle town of the Goto Domain, it's possible to make a full trip around Fukue Island in one day.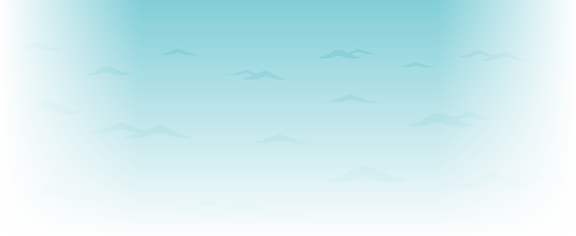 Route map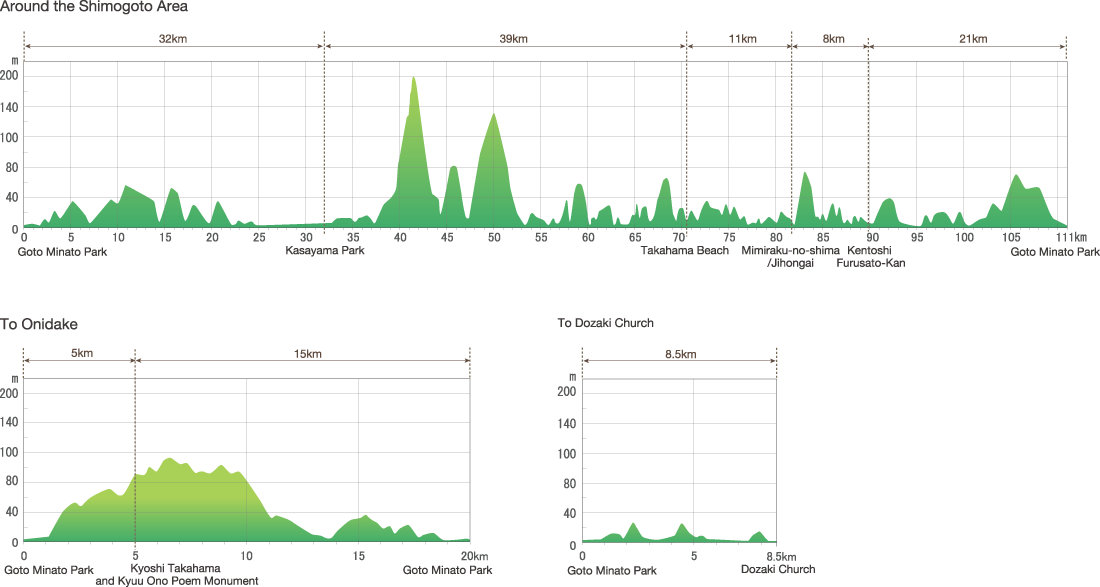 Spot
Dozaki Church

After the ban on Christianity had been officially lifted, the first church of the Goto Islands was built in Dozaki in 1880. The church was rebuilt into its current gothic-style using brick in 1907. In present day, the interior of the building is used as a museum. The statues of Father Marmand and Father Pélu, two priests who took up posts at the church, stand in the front garden.

Abunze Lava Coast

A lava coast created by lava that flowed from Onidake, the symbol of Fukue Island, into the ocean. This stretch of rugged blackish rock runs for 7 kilometers. Of this, about 1.2 kilometers has been developed into a walking path where you can enjoy the distinct scenery of many sub-tropical plants such as palm trees.

Takahama Beach

On this spectacular beach, you are surrounded on the left, right, and rear by verdant mountains with a clear emerald sea stretching as far as the eye can see in front of you. As the area has hardly any man-made structures, it is a chance to truly experience the magnificence of nature. Selected as one of "Japan's Top 100 Comfortable Beaches," in summer, it is used as a bathing beach with showers and other for-pay rental services available.

Mimiraku-no-shima/Jihongai

During the period when envoys were being dispatched to the Tang Dynasty in China, Fukue Island was the last port stop before leaving Japan. On the coast of Mimiraku-no-shima, which receives the strong wind and waves of the East China Sea, stands a monument inscribed with "Jihongai" which means "departing the furthest edge of Japan" and a statue of Kukai who brought the Shingon Esoteric Buddhist teachings he learned during his time in Tang back to Japan.

Sansan Tomie Camp Village

A seaside campsite that also has bungalows. A low stone wall has been built in the shallow sea where lava has solidified, and you can experience net fishing by scooping up fish that have been left behind at low tide. It is possible to barbeque the fish you have caught and other separately purchased ingredients. (Both net fishing and barbeques need to be reserved.) Rental bicycles available.

Arakawa Onsen

The local community welfare center runs Arakawa Onsen as a hot spring facility where visitors can relieve their muscle aches and fatigue. There is also a free footbath located nearby so you can casually drop by to relieve tiredness. Facing the road, it has a unique structure that combines a footbath, a bus stop waiting room, and a toilet. The footbath operates from 9:00 AM to 5:00 PM.

Kanjigashiro Castle Site

A structure made of stacked lapilli that has a wall height of about 3.6 meters and a total length of 180 meters. It is also called the "Stone Mounds of Yamazaki," named after the area where it is located. There is a miniature display where you can see the entire maze-like structure of the building. Theorized to have been used as a Wokou hideout, you can also see statues of these Japanese pirates.

Shiraragahama Manyo Park

A park which shows glimpses of the history of Miraku which was written about in the Manyoshu, one of Japan's oldest collections of poetry. The Manyo Plaza has a monument to the Manyoshu and 50,000 Manyo plants, such as Hagi and Yamabuki, are also planted there. In the central area of the park, you can see a panoramic view of Shiraragahama's coastline from atop a Japanese envoy-styled observation deck with a vermillion hull.